Top Rated Disaster Recovery
& Cleanup Company in Utah
Call Disaster Doctors for Professional Damage Recovery & Cleanup
Free Flood Damage Estimates
Disaster Doctors is on call 24-hours a day, seven days a week
Water Damage, Flood Cleanup, Disaster Cleanup Company near Salt Lake City, UT
Mitigation Expert Answers Phone 24/7
Serving the Entire Wasatch Front
Experts in Water Damage Cleanup and Repair
Water Damage – Fire Damage – Mold Removal – Storm Cleanup
These guys were great!! Had an issue with water in my basement, they not only got up to Park City quicker then I could... read moreThese guys were great!! Had an issue with water in my basement, they not only got up to Park City quicker then I could have ever expected. But they went above and beyond to make sure I was taken care of and satisfied with the work they did! Would defiantly refer to a friend - 10/03/2018
Excellent work done by this company. I had a water heater explode in my home, and Garrett showed up right away, with equipment ready to... read moreExcellent work done by this company. I had a water heater explode in my home, and Garrett showed up right away, with equipment ready to start cleaning up. They even worked with my insurance company, which was a relief. After they got it all cleaned up, they even handled the repairs necessary to get everything back to normal. I hope I never have to use these guys again, but if I ever experience another disaster, I know exactly who to call! - 9/12/2018
Very good company to work with. We had some water damage from the dishwasher and Cody was friendly and professional. He explained what needed to... read moreVery good company to work with. We had some water damage from the dishwasher and Cody was friendly and professional. He explained what needed to be done thoroughly and worked with our insurance adjustor. We were very satisfied with the mitigation work he did! - 10/01/2018
At your door in 60 minutes or less
Family owned company
Free estimates
We bill directly to your insurance
"They came 30 minutes after I called them. They were very friendly and professional and kept me in the loop of what was going on. I would definitely recommend them. "
Disaster Doctors Is Your Preferred Salt Lake City Water Damage Restoration Company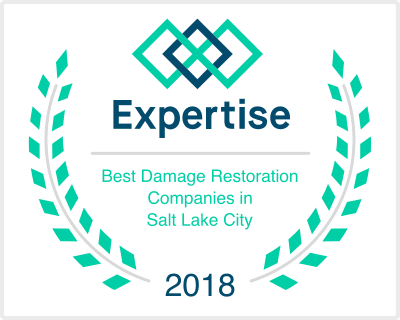 What our customers have to say:
"Such an amazing company. Cameron Stanger and his team are the best at what they do. Disaster cleanup work is so technical and has to be done right the first time to avoid long-term damage. Highly skilled, highly educated, very thorough. I wouldn't call anyone else for this kind of work." – Nathan C.
"We have been concerned about mold that we've been eyeballing in both our upstairs and downstairs bathrooms. We called and Cody came to check it out. He was so kind and understanding of our concern, but reassured that it's not as severe as we had anticipated! This visit gave us a lot of peace of mind, and we will absolutely be giving them a call if we run into another situation! I would absolutely recommend them to any friend or family member in need of this kind of care. We are so thrilled with our experience!" – Brooke E.
Contact Us For a Free Quote Today
Always Ready to Help You Cleanup!
When you experience water damage in your home or business, it's paramount that you get the right help, from professionals who have unmatched water removal experience. This means more than just calling someone who can clean up a mess—it means trusting a professional who can keep you safe, secure and comfortable in the space where you live or work.
Disaster Doctors is on call 24-hours a day, seven days a week, offering water extraction near Salt Lake City, Utah and the surrounding areas. Whatever is plaguing your home or commercial property, whether it's flooding from a storm, an appliance malfunction or a plumbing issue,  we'll see to it that the scope of devastation is assessed and that proper solutions are put in place to both stem the tide of damage and start you on the path to a cleaner, safer space. Our flood cleanup experts will be at your home in an hour or less ready to begin cleaning up and drying your property.
Call now for your free flood damage estimate: 1-801-210-1988
Professional Water Cleanup & Removal
Skilled Inspection & Restoration
We're quick to action and thorough in our water cleanup, ensuring that you're reaping the benefit of an experienced water damage cleanup professional who operates on morals of quality, speed, efficiency and accuracy when it comes to refurbishing your home or business. Each of our water damage restoration technicians is certified by the Institute of Inspection, Cleaning and Restoration Certification (IICRC), assuring you the finest in exceptional, professional service.
We take pride in the work we do and treat every space as if it were our own, because we know the importance of having a clean, safe environment, even after the catastrophe has occurred. We'll work tirelessly to resolve any devastation that may have befallen your home and use state-of-the-art technology and practices to ensure that it's done to the highest level of quality.
Flood Damage Restoration
Flood damage can occur for any number of reasons – toilet and sink overflows, broken pipes or leaky pipes, malfunctioning water heaters, refrigerators, washing machines and dishwashers, and flooded basement, attic or crawlspace due to heavy rain and flooding. When it does, water in your home can take its toll quickly and leave devastating damages in its wake. Flood damage not only weakens the infrastructure of any building that it invades, it's also an ideal breeding ground for mold and mildew, creating unpleasant odors in and around the home.
The quickest and best way to deal with the presence of water in your home is to immediately seek water damage restoration in Salt Lake City. Our water removal specialists have the resources, tools and expertise to not only eliminate standing water and saturated areas, but also to deal with any negative consequences that water can bring with it.
Water Damage Remediation
Disaster Doctors has dealt with water damage of all types, spanning a vast scope of work—whether it's basement water damage or an intrusion caused by violent storms. We're highly adept at pinpointing the full range of loss and assessing its severity, allowing us to implement the right solutions for sustainable remediation. We will come into your home or office, make sure that the source of the water is stopped, do thorough water extraction and removal, make sure there is complete clean up of all affected areas, and then do any restoration and repairs that are needed. We'll give you fair and honest pricing and a free estimate before beginning services. Let us be your choice when choosing a water damage company in Salt Lake City UT.
Your home or business is our patient and you're our trusted client—we won't rest until the threat of flood damage is completely removed and you're once again comfortable in your space.
Salt Lake City Sewage Cleanup Services
Disaster Doctors also provides sewage damage cleanup and sewage removal services.  There are serious health risks associated with sewage damage. Sewage damage can happen in many ways, from overflowing toilets, to a broken pipe. Raw sewage is difficult to mitigate and contains high amounts of harmful bacteria. Black water has the potential to cause a lot of damage. Only trained experts with the right equipment should handle sewage removal. Coming in contact with raw sewage or fecal matter can cause disease, destroy your valuables and cause severe damage to your home or business.
We provide water damage near Salt Lake City UT  to 84101, 84102, 84103, 84104, 84105, 84111, 84112, 84113, 84115, 84116, 84119, 84128, 84144, 84180. We also service the entire Wasatch Front, from Ogden to Orem, and everywhere in between.
Disaster Doctors is located 645 Taylor Way Suite 300, North Salt Lake, UT 84054 and can be reached by phone at 1-801-210-1988.
We also provide services around these landmarks: